HACKER IN LOVE
Lauren Rowe
Release Date: May 5
Secrets. Everybody's got 'em, including me. Especially me.
The difference is mine will never be revealed, whereas I can easily get yours, assuming the price offered by your enemy is right and the scales of justice appeal to my personal standards of ethics. Easy peasy lemon squeezy. The thing that's not so easy for a shy guy like me? Finding Ms. Right and locking her down.
Speaking of Ms. Right, the very night I was set up with Hannah Milliken by our mutual friend, I knew I'd one day kneel before her with a ring in hand. Hannah's the kind of girl who'll gleefully dance like a gorilla with me in the coolest nightclub or belt out a karaoke duet from Grease like her very life depends on it. She's gorgeous, too. Funny and smart. And she even wears librarian glasses. See? Perfect.
I don't doubt Hannah's the one for me. Indubitably, she is. I only wonder how a dork like me could possibly land a goddess like her.
Unfortunately, when catastrophe strikes, all my questions are rendered moot. Now that Hannah knows the truth about me not actually working in cybersecurity—as well as the questionable things I've done to win her over—will I lose my dream girl forever, or is there still a chance for us to chase our happily ever after?
Hacker in Love is a steamy, funny, heart-pounding, standalone contemporary romance with a whole lot of feels, laughs, spice, and swoons by USA Today and internationally bestselling romance author Lauren Rowe.
Grab Your Copy!
https://books2read.com/LRHackerinLove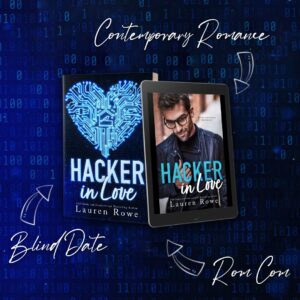 Sunny Shelly's Review: 3.5 Stars
Lauren Rowe is a relatively new-to-me author, so I wasn't jonesing for Henn's story the way some other readers were. Did I enjoy it? Absolutely. But I feel like I would have been shipping this couple more had I read LR's back catalog.
I thought Henn and Hannah were a great couple, with sizzling chemistry. I loved how he was kind of awkward and dorky, a total golden retriever of a book boyfriend, and she was sassy and a bit of a fireball. The main plot of this book revolves around Henn's lie — he doesn't exactly work in cybersecurity the way his friends think he does, and after being swindled and catfished by the last guy she dated, Hannah has zero tolerance for liars. And that puts our friend Henn in a bit of a predicament!!
This is a super cute book, and a complete standalone. But I felt like there were a bunch of supporting players in this story that didn't necessarily *need* to be there to contribute to the story. I later came to find out that these were other characters from the LR universe and this particular couple's story was long-awaited. So while I liked this book, I am in the minority of readers that didn't seem to love parts of it…
I read an advanced copy and voluntarily left a review.
Meet Lauren Rowe:
Lauren Rowe is the USA Today and international #1 best-selling author of bestselling Standalone Smitten, The Reed Rivers Trilogy, as well as The Club Trilogy, The Josh & Kat Trilogy, The Morgan Brothers Series, Countdown to Killing Kurtis, and select standalone Misadventures.
Lauren's books are full of feels, humor, heat, and heart. Besides writing novels, Lauren is the singer in a party/wedding band in her hometown of San Diego, an audio book narrator, and award-winning songwriter. She is thrilled to connect with readers all over the world.
To find out about Lauren's upcoming releases and giveaways, sign up for Lauren's emails here!
To learn more about Lauren Rowe & her books, visit here!
Connect with Lauren Rowe:
Hosted by: