🌟 ℍ𝕆𝕋 ℕ𝔼𝕎 ℝ𝔼𝕃𝔼𝔸𝕊𝔼 & 𝔾𝕀𝕍𝔼𝔸𝕎𝔸𝕐 🌟
𝗪𝗵𝗲𝗻 𝘁𝗵𝗲 𝗦𝘁𝗼𝗿𝗺 𝗕𝗿𝗲𝗮𝗸𝘀, 𝗮𝗻 𝗲𝗺𝗼𝘁𝗶𝗼𝗻𝗮𝗹, 𝗮𝗻𝗴𝘀𝘁𝘆 𝗿𝗼𝗺𝗮𝗻𝘁𝗶𝗰 𝘀𝘁𝗮𝗻𝗱𝗮𝗹𝗼𝗻𝗲 𝗯𝘆 𝗘𝗺𝗲𝗿𝘆 𝗥𝗼𝘀𝗲 𝗶𝘀 𝗶𝘀 𝗟𝗜𝗩𝗘!
#𝟭-𝗰𝗹𝗶𝗰𝗸 𝘁𝗼𝗱𝗮𝘆!
BOOK BLURB
𝐎𝐮𝐫 𝐰𝐨𝐫𝐥𝐝𝐬 𝐧𝐞𝐯𝐞𝐫 𝐬𝐡𝐨𝐮𝐥𝐝 𝐡𝐚𝐯𝐞 𝐜𝐨𝐥𝐥𝐢𝐝𝐞𝐝, 𝐛𝐮𝐭 𝐢𝐭 𝐬𝐞𝐞𝐦𝐞𝐝 𝐨𝐮𝐫 𝐩𝐚𝐭𝐡𝐬 𝐰𝐞𝐫𝐞 𝐚𝐥𝐰𝐚𝐲𝐬 𝐝𝐞𝐬𝐭𝐢𝐧𝐞𝐝 𝐭𝐨 𝐜𝐫𝐨𝐬𝐬.
Brody McCallister was only supposed to be a means to an end. My golden ticket to get me closer to what I really needed—a way to make peace with what I'd done when I was eighteen, dirt poor, and left to fend for myself.
I only had six weeks in the middle of a hectic world tour to do it.
So the last thing I needed was to fall for a cocky cowboy. A walking contradiction with a charming grin, a dirty mouth, and a gift for healing wild and broken things.
His life was in Texas.
Mine was on the road.
He guarded his privacy fiercely.
I was constantly hounded by paparazzi.
Everyone warned me it could never work, that ultimately I'd be forced to choose—my music career or him.
I didn't listen. I fell for him anyway.
Hook, line, and proverbial sinker.
But Brody was hiding secrets.
And when the storm finally broke, it destroyed everything in its wake … including us.
🌟Add WHEN THE STORM BREAKS to your Goodreads TBR➜ https://bit.ly/36bSrOS
PURCHASE LINKS
AMAZON US → http://bit.ly/WTSB-US
AMAZON UK → http://bit.ly/WTSB-UK
AMAZON AU → http://bit.ly/WTSB-AU
AMAZON CA → http://bit.ly/WTSB-CA
#1-click When the Stars Fall, Book one in the Lost Stars series of standalones!
AMAZON US → http://bit.ly/WTSF_US
AMAZON UK → http://bit.ly/WTSF_UK
AMAZON CA → http://bit.ly/WTSF_CA
AMAZON AU → http://bit.ly/WTSF_AU
Universal → mybook.to/WTSF
Sunny Shelly's Review: 4 Stars
When The Storm Breaks is the second book in the Lost Stars series, following the McAllister family. This time, we get cousin Brody's story — the moody rancher. There were breadcrumbs we got about Brody's backstory in When The Stars Fall, and I loved getting to find out more about him!
Brody is such a tortured hero. He is the foster kid with the tragic past, who was lucky to be taken in by his aunt and uncle, who showed him what a loving home looked like. He's trying to now do the same for his teenage brother, Ridge, so that history doesn't repeat itself. I definitely got the feeling in When The Stars Fall that Brody was hung up on Lila (they had one drunk night together while Jude was MIA that resulted in the birth of Noah) — but I so, so loved Brody's romance with Shiloh!
Country rock star Shiloh is hiding out in Texas for six weeks in between tour dates. She sought Brody out for a specific reason, and while I thought that was going to be a bigger part of the story, Shiloh's reasons for seeking him out was kind of wrapped up pretty early on. The bigger issue between Shiloh and Brody became issues of trust (her working with her ex-boyfriend/former bandmate), lifestyle differences between the Cowboy and the Rock Star — and a wicked twist in the story that I didn't see coming.
It took a lot for Brody to open up to Shiloh, especially since he didn't think he was worthy of her love. And when the skeletons in his closet were revealed to the media, my heart hurt for Brody — it wasn't his fault, yet he was made out to be a monster. This book was one of the cases where the heroine comes groveling for forgiveness — and I loved the reconciliation.
While I didn't quite love this story as much as I loved When The Stars Fall, when The Storm Breaks is still an epic, emotional journey of true love, soul mates and forgiveness. Brody and Shiloh were destined for each other!
I received an advanced copy and voluntarily left a review.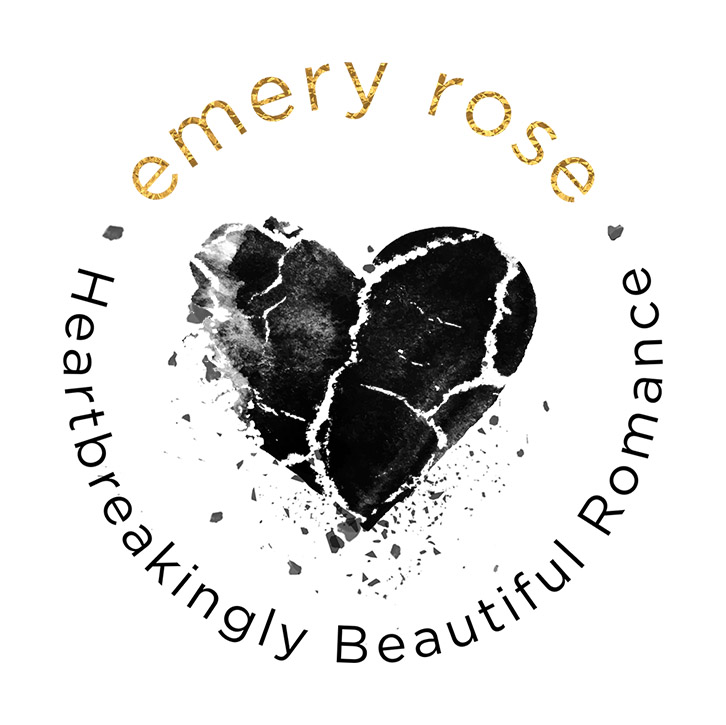 ABOUT THE AUTHOR
Emery Rose has been known to indulge in good red wine, strong coffee, and a healthy dose of sarcasm. When she's not working on her latest project, you can find her binge-watching Netflix, trotting the globe in search of sunshine, or immersed in a good book. A former New Yorker, she currently resides in London with her two beautiful daughters.
AUTHOR LINKS
Reader Group | Goodreads | BookBub | Amazon | Instagram | Facebook