🌟 ℍ𝕆𝕋 ℕ𝔼𝕎 ℝ𝔼𝕃𝔼𝔸𝕊𝔼 & 𝔾𝕀𝕍𝔼𝔸𝕎𝔸𝕐 🌟
𝙒𝙝𝙚𝙣 𝙩𝙝𝙚 𝙎𝙩𝙖𝙧𝙨 𝙁𝙖𝙡𝙡, 𝙖𝙣 𝙖𝙣𝙜𝙨𝙩𝙮, 𝙚𝙢𝙤𝙩𝙞𝙤𝙣𝙖𝙡, 𝙝𝙚𝙖𝙧𝙩 𝙬𝙧𝙚𝙣𝙘𝙝𝙞𝙣𝙜 𝙧𝙤𝙢𝙖𝙣𝙩𝙞𝙘 𝙨𝙩𝙖𝙣𝙙𝙖𝙡𝙤𝙣𝙚 𝙗𝙮 𝙀𝙢𝙚𝙧𝙮 𝙍𝙤𝙨𝙚 𝙞𝙨 𝙇𝙄𝙑𝙀!
#𝙊𝙣𝙚-𝙘𝙡𝙞𝙘𝙠 𝙩𝙤𝙙𝙖𝙮!
BOOK BLURB
Growing up, Jude McCallister was the bane of my existence.
My best friend. Fiercest ally. The most annoying boy in the world.
At eighteen, the boy I loved to hate became the man I couldn't live without.
We were young. Madly in love. Invincible.
Strong enough to weather any storm.
Cocky enough to believe that no amount of time or distance could destroy us.
When Jude finally returned home from overseas, it should have been cause for celebration. But the man I'd fallen in love with was gone, and in his place was someone I no longer recognized.
𝐼 𝑐𝑎𝑛'𝑡 𝑑𝑜 𝑡ℎ𝑖𝑠, 𝑡ℎ𝑒 𝑛𝑜𝑡𝑒 𝑠𝑎𝑖𝑑. 𝐼'𝑚 𝑠𝑜𝑟𝑟𝑦.
Now, after six long years he's back. Only my heart … it doesn't beat just for him anymore.
Add WHEN THE STARS FALL to your Goodreads TBR➜ https://bit.ly/WTSF_GR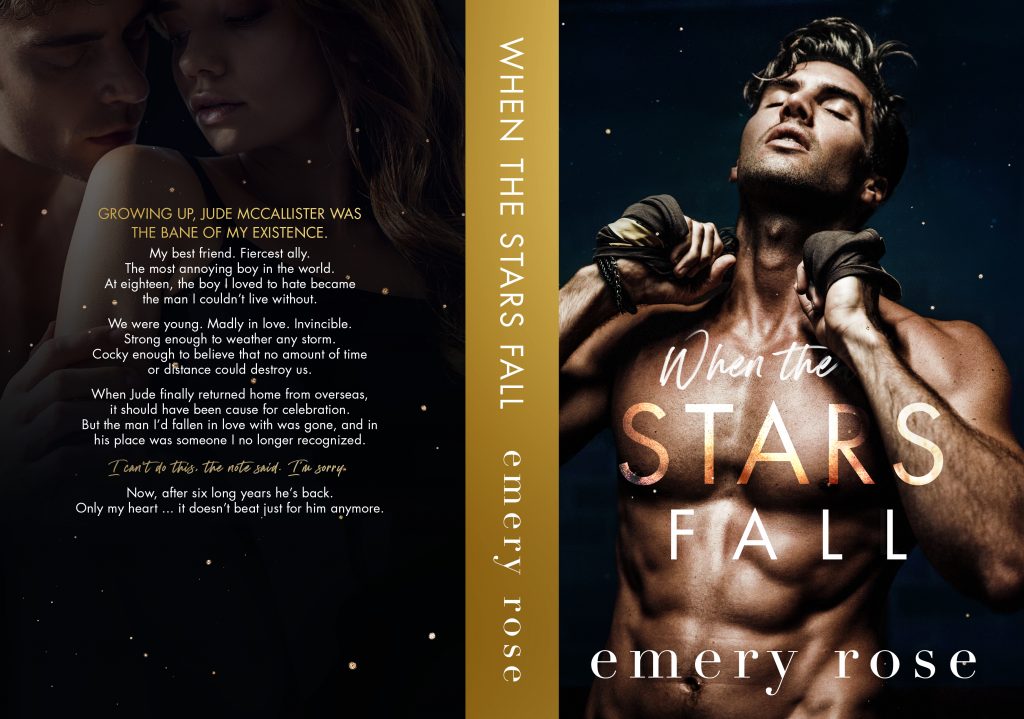 PURCHASE LINKS
Amazon US → http://bit.ly/WTSF_US
Amazon UK → http://bit.ly/WTSF_UK
Amazon CA → http://bit.ly/WTSF_CA
Amazon AU → http://bit.ly/WTSF_AU
Universal → mybook.to/WTSF
GIVEAWAY
To celebrate the cover reveal of When the Stars Fall, Emery Rose is giving away a $25 Amazon gift card! Head to her Facebook page to enter: https://www.facebook.com/EmeryRoseAuthor/
Sunny Shelly's Review: 5 Stars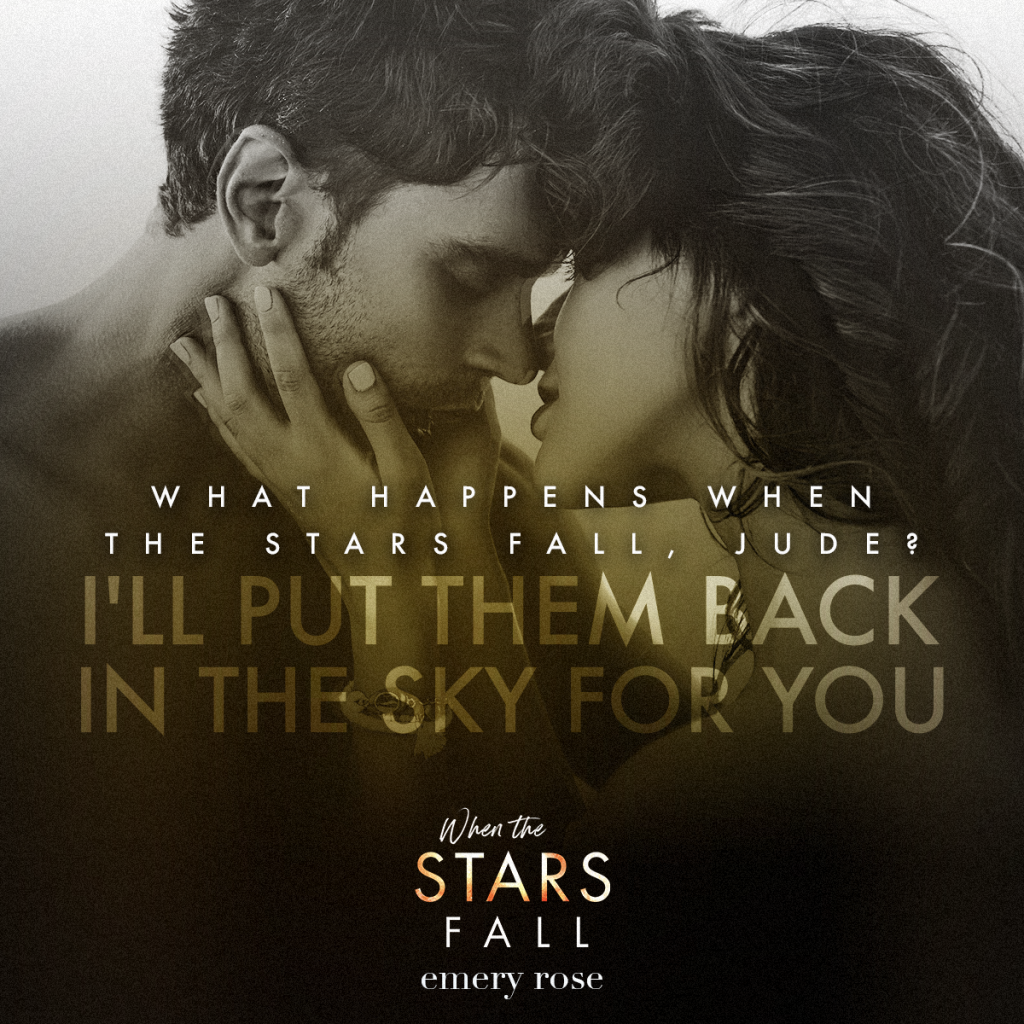 I knew from the prologue that When The Stars Fall was going to an emotional rollercoaster, the kind of epic romance that rips your heart out and then puts it back together again. Well, Jude and Lila's story did not disappoint!
When The Stars Fall is broken into three parts: Jude and Lila's childhood, their early 20s after he's been discharged from the Marines, and then when they are 30. Each part is so well-written, perfectly laying out the full arc of this couple's relationship as they go from best friends at 9 to hating one another in high school because they are actually in love with one another, finally getting together, being torn apart and finding their way back to each other once more. Part II was particularly hard to read, as Jude suffered from PTSD and a traumatic brain injury after being in Afghanistan. He was so lost upon returning home, overcome with guilt about what he did and saw, the death of his best friend in battle, not understanding why he couldn't feel happy and normal again. Lila, meanwhile, was so desperate to help him, get him help, and angry that she wasn't enough for him to want to stick around for. My heart broke for both of them. Their pain was palpable and so heartbreaking.
Without giving too much away, the family drama in Part III added another fabulous layer to this story as Jude and Brody butted heads over and over again. Jude really overcame a lot and changed so much between the second and third acts, and he really put in a lot of work to fix things with not only Lila but his family as well.
"What happens when the stars fall, Jude?"
"I'll put them back in the sky for you."
Presumably, this is the first book in a series about the McCallister brothers. There were a lot of nuggets dropped about Brody and his tumultuous past, and I hope it's not a long wait for his book! I did feel that the subplot about Jude's business with his military buddies was just kind of dropped, but hopefully that will come back into play in subsequent books.
Overall, When The Stars Fall is a fantastic, fantastic, angsty second-chance romance!
I received an advanced copy and voluntarily left a review.
ABOUT THE AUTHOR
Emery Rose has been known to indulge in good red wine, strong coffee, and a healthy dose of sarcasm. When she's not working on her latest project, you can find her binge-watching Netflix, trotting the globe in search of sunshine, or immersed in a good book. A former New Yorker, she currently resides in London with her two beautiful daughters and one grumpy but lovable Border Terrier.
AUTHOR LINKS
Reader Group | Goodreads | BookBub | Amazon | Instagram | Facebook