🔥🔥 HOT NEW RELEASEL 🔥🔥
Troublemaker by Kayley Loring is LIVE!! A teacher is about to get schooled in matters of the heart by a single dad and his young son. #One-click today!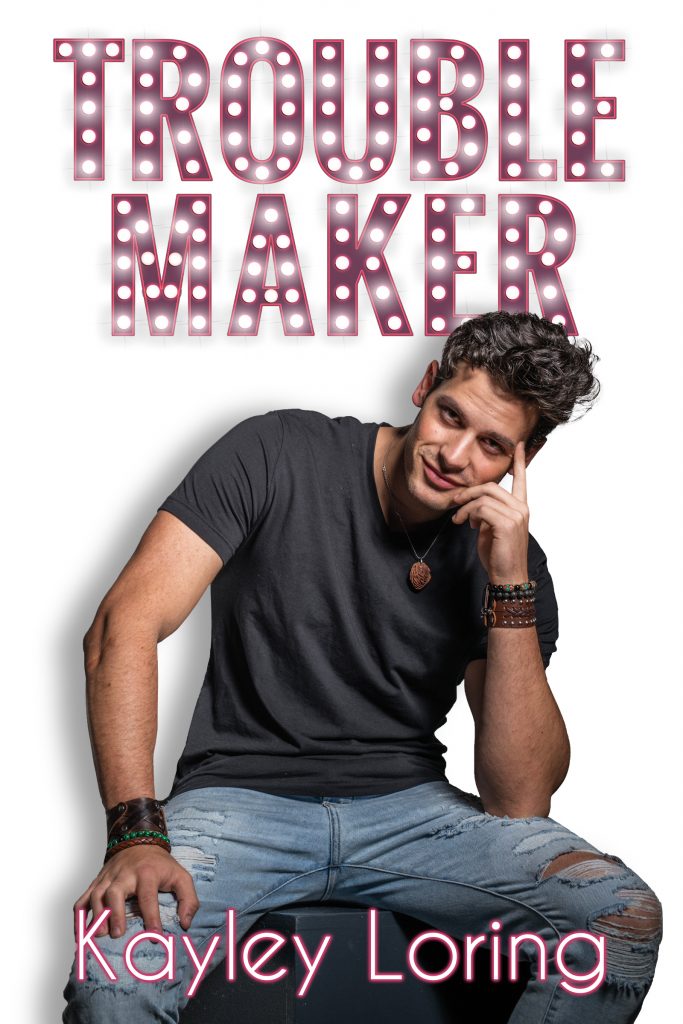 BLURB
TO: Alex Vega
FROM: Emilia Stiles
SUBJECT: Hello
Dear Mr. Vega,
I felt it necessary to follow up on today's meeting, since we weren't able to speak candidly in front of your son.
I was shocked to discover that you are Ryder's dad. Given that your ex-wife will be out of the country for a while and you are currently his primary caregiver, I'm sure you understand why we need to establish boundaries and etiquette. I think it would be best if we just pretend that we met in person for the first time today.
Your son is a very bright (flirtatious and talkative) student and since his education is a top priority for both of us, I hope I can count on you to respectfully refrain from grinning at me, using that sexy tone of voice, and undressing me with your annoyingly beautiful brown eyes if we should happen to interact with each other again in the future.
Thanks so much,
Miss Stiles
TO: Emilia Stiles
FROM: Alex Vega
SUBJECT: Re: Well, hello again…
Dear Miss Stiles,
Great to hear from you. My son's education is indeed a top priority. As such, I respectfully agree to refrain from doing all of the aforementioned things.
However, I can't promise to stop thinking about that kiss at the bar this summer. I've been thinking about it for the past month. It's interesting how humorless and uptight you are about my son's totally awesome personality, given that I have personally witnessed just how flirtatious and talkative you yourself can be when mildly intoxicated.
You're so welcome,
Alex
P.S. I volunteered to be a chaperone for your next field trip. See you then.
Add to your Goodreads TBR: https://bit.ly/TM_GR
Cover designed by Kari March Designs
Cover photo by Regina Wamba
Audiobook is coming in September and will be narrated by Zachary Webber and Mackenzie Cartwright!
PURCHASE LINKS
Amazon US ➜ https://bit.ly/TM_AMZ_US
Amazon UK ➜ https://bit.ly/TM_AMZ_UK
Amazon AU ➜ https://bit.ly/TM_AMZ_AU
Amazon CA ➜ https://bit.ly/TM_AMZ_CA
GIVEAWAY
To celebrate the release of Troublemaker, Kayley Loring is giving away a $25 Amazon gift card. Stop by her Facebook page to enter:
https://www.facebook.com/authorkayleyloring/

Sunny Shelly's Review: 5 Stars
SLOOOOWWW BURN! I have loved all these books in this Hollywood heartthrobs series by Kayley Loring, and Alex and Emilia are another hot couple!
Alex is friends with Shane (Sleeper) and Nico (Charmer), having been on the same Disney Channel series with Shanico when they were teens. Now in his 30s, Alex is a divorced single dad, one of Hollywood's hottest directors — and totally smitten with his son's 2nd grade teacher. "Emmy" and "Alejandro" had a hot makeout session in a club a few weeks before school started, but it never went anywhere else because of something that will be forever referred to as Vomit Night. So weeks later, both are shocked when Alex walks into Miss Stiles' classroom for a parent/teacher conference for his son, Ryder, and sees the sexy librarian that he hasn't been able to stop thinking about.
Of course, it's not so easy for them to act on their feeling. The school frowns upon teachers dating parents of current students, and even though Alex is someone she can't stop thinking about, Emilia is still kinda hung up on her jerk of an ex. Alex is soooo patient in waiting for her to feel like the time is right. The guy deserves an award for that! Their interactions are sweet and sexy, the pushing from Ryder as he tries to play matchmaker and the sexy flirty texting just add so much to this story and the build-up to Emilia and Alex finally — finally! — getting together.
Just like Sleeper and Charmer before it, Troublemaker is full of heat and heart. There are so many laugh-out-loud moments from all of the characters. Emilia's bestie Franklin is a hoot, and I loved seeing how Shane and Nico give Alex advice. (Did I miss Alex completely in those books? I am sorry to say I don't really remember him being a peripheral character them!)
Before the summer is over, binge-read Troublemaker. It's definitely worth the trouble!
I received an advanced copy and voluntarily left a review.
ABOUT THE AUTHOR
Before writing steamy romantic comedy novels, Kayley Loring got a BFA in creative writing from a Canadian university and had a fifteen-year career as a screenwriter in Los Angeles (under a different name). She mostly wrote PG-13 family comedies that studios would pay her lots of money for and then never make into movies. In 2017 she decided to move to the Pacific Northwest and write about all the fun stuff that she wasn't allowed to write about in those PG-13 scripts. Now she's breathing cleaner air and writing dirtier words. It's an adjustment she's happily getting used to.
AUTHOR LINKS
Instagram: https://www.instagram.com/kayleyloring/
Facebook: https://www.facebook.com/authorkayleyloring/
Facebook Reader Group: https://www.facebook.com/groups/kayleyville/
Website: https://www.kayleyloring.com/