📚 💗 HOT NEW RELEASE 📚💗
Confessions of a Bookaholic by Joslyn Westbrook is LIVE! Don't miss this whirlwind slow-burn, friends-to-lovers romance filled with laughter, angst, and enough steam to melt hearts. #One-click today!
BOOK BLURB
What happens when a book blogger accidentally publishes her digital diary online?
A viral shitstorm, that's what.
No way did I want thousands of subscribers to read my confessions—yet, that's precisely what went down last night after four too many Cosmos with my girls.
Now, Damage Control is my new middle name because my diary confessional has my roommate, Lucas Stone, written all over it.
Literally.
I've been in love with him forever—well, ever since I saw him sprint across campus naked during our first year of college.
And now that Lucas knows how I feel about him?
Well, things are destined to get awkward.
Because Lucas Stone, my BFF—the man who sleeps only one room over—just got engaged.
And his fiancée isn't me.
PURCHASE LINKS
Universal Link: https://books2read.com/Confessions-Of-A-Bookaholic
Add to your Goodreads TBR: https://bit.ly/COAV_GR
GIVEAWAY
To celebrate the release of Confessions of a Bookaholic, Joslyn Westbrook is giving away a $25 Amazon gift card! Head to her Facebook page to enter:
https://www.facebook.com/JoslynWestbrookOfficial
TEASERS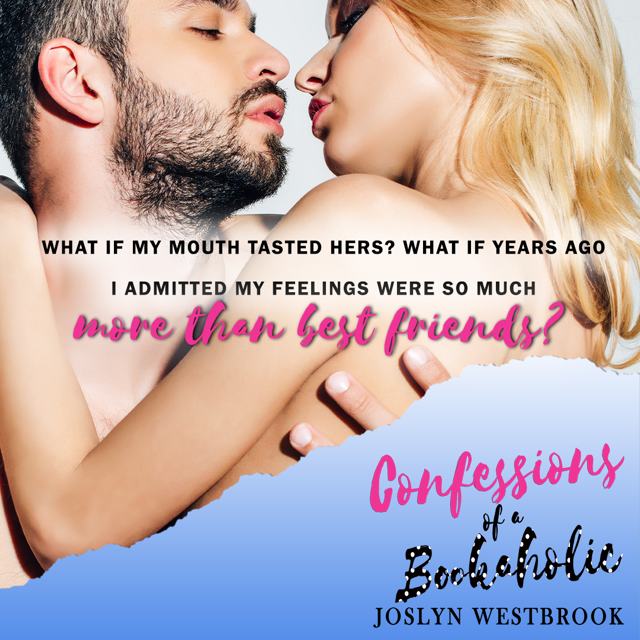 Sunny Shelly's Review: 4 Stars
If best friends/roommates/childhood friends/secret crush is your jam, then you will be hard-pressed to find a romcom that packs more punch with all of those tropes than Confessions Of A Bookaholic. Macy and Lucas are that perfect kind of romcom couple: simmering tension, secret crushes, fantastic transition to romantic partners, and a helluva split.
There is great use of their childhood bond, the fact that they grew up next door to each other and are now roommates, and that their parents are best friends. The history between Macy and Luke went a long way in establishing how well they already know each other. Even before things turned romantic, Luke was pulling out boyfriend moves like "Buy Macy's Monthly Snacks." How cute!
The only thing I didn't like was how BONE-HEADED Luke was in purposely pushing Macy away. And when his plan worked, he didn't even TRY to win her back until he got some prompting from an outsider. I loved his grand gesture and their romantic reunion, but I seriously wanted to slap the dude upside the head for that stunt.
But besides that, Confessions of a Bookaholic was pretty perfect best friends romcom. A bit predictable, a whole lot of swoony and a satisfying ending! I received an advanced copy and voluntarily left a review.
ABOUT THE AUTHOR
Wife. Mom. Foodie. Fashion Junkie. Rom-Com Lover.
Author of sexy rom-coms and feel-good contemporary romance, Joslyn Westbrook's novels feature sweep-you-off-your-feet heroes and the sassy, classy, badassy heroines who can't seem to breath without them. When she's not writing, Joslyn can be found binge-watching Netflix, cooking, shopping, and spending time with her husband and children at home in sunny California.
AUTHOR LINKS
Facebook: https://www.facebook.com/JoslynWestbrookOfficial
Reader Group: http://bit.ly/JoslynWestbrookAListers
Instagram: https://www.instagram.com/joslynwestbrook
Mailing List: https://www.subscribepage.com/JoslynWestbrook
Goodreads: http://bit.ly/JoslynWestbrookGoodreads
Amazon: http://bit.ly/FollowMeOnAmazon
Bookbub: http://bit.ly/JWBookBub